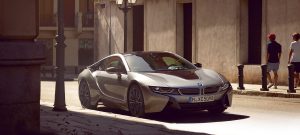 The BMW i8 was introduced first in 2009 as a three cylinder turbodiesel hybrid powered car, there were two electric motors attatched providing 139 bhp and it had an estimated all electric range of 31 miles. It was an incredibly futuristic concept when it came out and the styling was heavily inspired by the BMW M1, BMW's 1980s supercar attempt.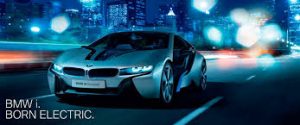 i8 Concept
The production car was finally unveiled in 2013 at the German Interntational Motor Show. The shown design was not far off the concept which is unusual in the transition from Concept car to production car. It featured butterly doors, unusual flying buttresses on the rear flanks and a very futuristic interior with a digital display, a first for BMW.
The car features an electric two speed drivetrain, and the car can reach a top speed of 75mph in all electric mode, topping out at an electronically limited 155mph in hybrid mode. The total range of the car is 37km in all electric mode and 530km in hybrid mode. An interesting fact of the i8 is that of course a three cylinder engine with an electric motor did not sound like what it is, a sports car. So in the i8 there is a false sound played through the speakers in the car that mimics an engine. The car has three driving modes, SPORT, COMFORT and ECO PRO depending on how the driver is feeling.
The i8 is the top selling hybrid plug in sports car worldwide.
The i8 coupe starts at 136,000 euros however now you can pick up an already depreciated 2014 i8 for as low as 85,000 with warranty. Here is one we found!
https://www.carzone.ie/used-cars/bmw/i8/used-2016-162-bmw-i8-i8-1-5-i-2dr-aut-dublin-fpa-201806287918605
Written by Daniel Sullivan